Celebrate With Champagne Boizel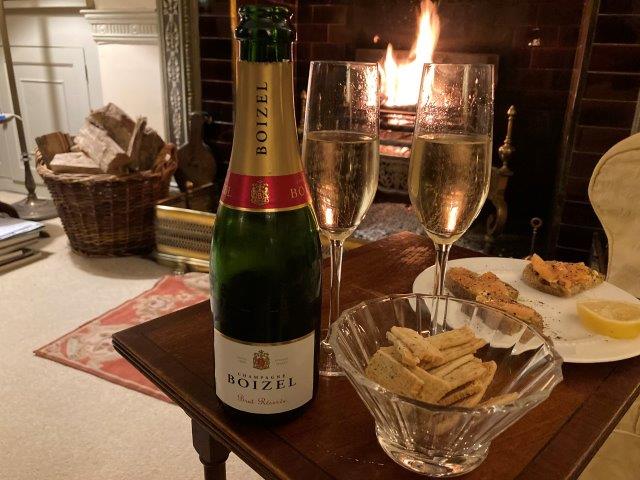 Celebrate with Champagne Boizel
With very different celebrations this year, if nothing else, we can celebrate seeing the back of 2020. It goes without saying that this has been a year like no other and not one that any of us would wish to repeat. A whole new vocabulary has grown up – furlough, self-isolation, social-distancing and even 'un-mute'! So with the end of 2020 in sight and hope on the horizon with vaccines in 2021, there are more than enough reasons to open a bottle of champagne.

Like so many industries this year, tourism in particular, the wine industry has been hit hard globally, with hospitality venues shut or curtailed, nearly all large events cancelled and international travel at a standstill. All the more reason then to give a helping hand and purchase a few bottles to help them and help cheer ourselves at the same time, albeit responsibly. The good old Wine Society is again doing its bit and has a number of fantastic champagnes offers available if you buy 6 bottles of the same brand.

I have picked out just one of these, Champagne Boizel, for two reasons. Firstly, it is one of my all-time favourite champagnes, for its elegance and finesse, combined with complexity and depth of flavour. Secondly, it is available in half bottles and is thus ideal for an impromptu little tipple or for those self-isolating on their own.

Although one of the smaller of the champagne houses, producing half a million bottles annually, Boizel has established a reputation for uncompromising quality. It is also a major exporter, first sending bottles to London in 1851. Sourced from 50 different vineyards, many of which are premier cru and grand cru, the wines are aged for at least 36 months and the low dosage gives a dry taste, full of delicacy, complexity and finesse. Brut Reserve from the Wine Society at £35 per bottle, but with an amazing reduction of £10 per bottle if you buy six. A positively irresistible offer!

Established in Epernay in 1834, the company is still family run with Madame Evelyne Roques-Boizel the president and her two sons running the show. Located in the heart of the famous champagne town of Epernay in the Marne, the champagne house of Boizel offers a fabulously interesting tour of the on-site winery and the extensive cellars, located 30 feet below ground. Characterful, elegant, delicate champagnes are available to taste at the end of the tour.

Champagne Boizel is better known in France than the UK, but well worth seeking out, whether on offer or not. It has an inherent delicacy and class, and the non-vintage cuvée Brut Reserve is described by The Wine Society as 'a hidden gem'. The description on their website reads: "The perfect celebration Champagne: generous and fruity, while maintaining an effortless lightness of touch, this pinot noir-dominant blend has an irresistible touch of brioche on the palate, rounding out the flavour beautifully." What more can you want?