Domaine Dominique Guyot Pouilly Fumé
Domaine Dominique Guyot
Pouilly Fumé AOC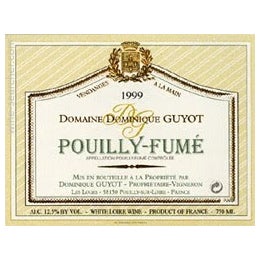 Pouilly Fumé Les Griottes
Dominique Guyot continues the family tradition of producing taught, flinty, wonderfully delineated Sauvignon Blanc, which merits serious attention. A touch firmer and leaner than most of its peers.
Hand harvested grapes are vinified at cool temperatures (circa 15 degrees C.) Bottled late spring the following year.
Tasting Note:
The nose has hints of gooseberries and gunflint. The palate is fresh, with a zesty, mineral quality. Dry, long finish.
A wonderfully clean-cut, firm, flinty, serious wine, amongst the best from the area.
.