Chateau de Mercues - A Haven of Peace in the Cahors Wine Region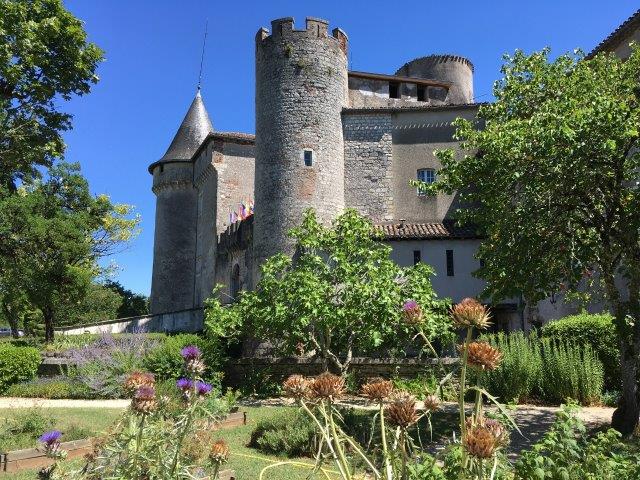 As France opens up again after lockdown, so do the hotels, restaurants and wineries. The four-star Chateau de Mercuès in the Quercy region of south-west France, has all three and is thus a wine-loving gourmet's delight. Set atop a hill, with stunning views over the majestic river Lot and surrounding vineyards, the chateau is a stone's throw from the ancient city of Cahors. This is a wine region with 2000 years of history, where the Malbec grape reigns supreme.

Once one of the prime red grape varieties in Bordeaux, Malbec has found its true home in the Cahors region, producing some outstanding red wines which are now more accessible than twenty or thirty years ago. Named by the British in the Middle Ages as 'black wine', they were generally strong, tannic horrors which needed at least 15 years ageing to be drinkable. Modern Cahors wines are somewhat lighter and fruitier, yet still with underlying power and grip. It is also, of course one of the foremost red grape varieties of Argentina, where the hot, dry climate suits the variety to perfection.

The Vigouroux family have made wine in the Cahors region for four generations since 1887 and after acquiring the Chateau de Mercuès with a view to wine tourism, have now expanded their horizons to Mendoza in Argentina. Part of the Relais and Chateaux group of Hotels since the 1950's, this is a Winery Hotel par excellence. With its fairy tale pointy turrets, stunning location, fabulous pool and gardens, together with a Michelin starred restaurant, this is undoubtedly a destination worth seeking out.

Alongside the more formal restaurant is a bistrot set in the old stone courtyard, serving a lighter lunch menu, together with an abbreviated wine list. Adhering to strict Covid-19 safety protocols, all staff wear masks and/or visors and the wine list is obtained on your mobile by reading a QR code printed on the disposable menus. Many wines on the list are those produced by the owners, and pale, dry rosé made from 100% Malbec accompanied my lunch admirably.

A wine producer as well as a high-class hotel and restaurant, Chateau de Mercuès boasts a superb vinification and ageing winery, carved into the rock beneath the castle gardens. Row upon row of oak barrels filled with rich Cahors wine slumber peacefully in the vaulted cellars prior to bottling. A range of wines from the family vineyards is available to taste, prior to filling your boot with a case or two, ready for a scenic journey back to Sussex.
The chateau, set in its tranquil hill-top surroundings reached by a narrow country lane, is an ideal centre from which you can take trips into the surrounding vineyards, discovering the beautiful towns and villages of the Quercy, together with the fabulous historic black wines of Cahors.