Discover the Vineyards of the Dordogne Valley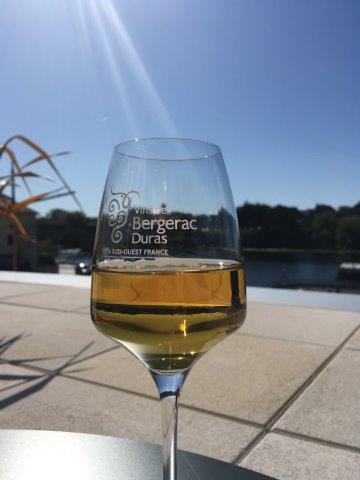 Discover the Vineyards of the Dordogne Valley Etc Magazine February 2020
With the still, cold, grey of winter lingering with us, admittedly interspersed with the odd glimmer of sunshine, our thoughts in January and February inevitably turn to Spring and Summer Holidays. The Dordogne region in south-west France, has been a popular destination with us Brits for a long time, due to its gently undulating terrain, glorious peaceful green countryside and agreeable climate. A little like Sussex, only warmer! But few travel to the region simply for the wines, partly since they are often eclipsed by those from the adjoining region of Bordeaux.
A grave error of judgement, since the Dordogne Valley produces a fabulous range of wines, whose quality has improved massively over the past thirty years and now represent some remarkably good value for money in comparison to their nearby peers. New generations of winemakers, many of whom have travelled and worked in wine-producing countries across the world, are bringing modern wine-making techniques to the area, producing appealing and vibrant wines, very much in tune with current consumer demands.
Gone are the days of the thin, acidic, oxidised dry whites and heavy, tannic reds. The dry white wines are fruity, characterful and well-balanced, often with appealing varietal aromas from the Sauvignon Blanc and Semillon grape varieties, from which they are made. The reds are soft, supple and appealing, with juicy red and black fruit flavours, often with subtlety and elegance. Made principally from Merlot and Cabernet Sauvignon varieties, as in Bordeaux, they have a character of their own due to the inland climate and differences in terroir.
There are in fact seventeen Appellations in the Dordogne, each different from the other and spanning the range of dry white, sweet white, rosé, red and even sparkling. A great place to start exploring the Dordogne wine region, is the Maison des Vins in Bergerac. Recently completely refurbished, it occupies a group of 17th Century monastic buildings, overlooking the majestic river Dordogne and complete with cloisters, perfect for paying homage to the region's wines with a tasting or two.
The Wine Centre of Bergerac is an unmissable destination in itself, with its permanent exhibitions charting the development of the vineyards from Roman times, a 'vinothéque' with a large number of wines available for purchase or tasting from all the appellations of the area. Complemented by an outdoor terrace with views of the old town of Bergerac and the river, the introduction to the wines of Dordogne is achieved with style, a glass of local wine in hand.
Visiting the regions vineyards, cellars and wineries, meeting the people working there and discovering their secrets, is a fabulous experience which can only enhance any trip to the region. Many of the 800 producers welcome visitors and offer tastings of their wines. Some sub-regions are dedicated to producing a particular style of wine, such as Monbazillac, the largest sweet wine producing region in the world. The tiny area of Saussignac also is dedicated to sweet white wine, whilst Pécharmant is only for red wines, which are bold and powerful.
The Dordogne Valley is a wonderful region of France for a holiday, with its old market towns, great rivers, fabulous food, hundreds of chateaux and many cultural and family attractions. One further attribute to add to the list of reasons to visit, is to discover the wealth of wines produced, which are accessible, enjoyable and affordable.