English Wine on the Up.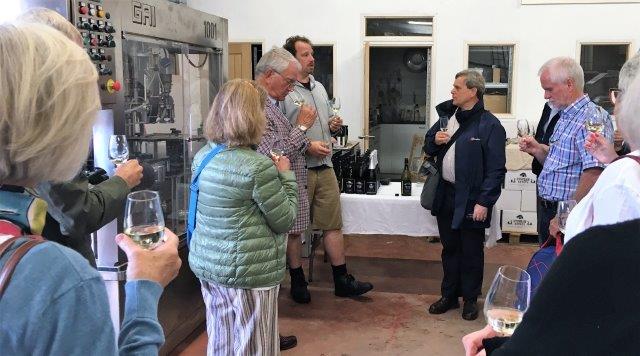 English Wine in the Ascendancy
Another very successful Arundel Festival has just come to a close, when thousands of visitors had the opportunity to enjoy the many events and exhibitions which took place over the ten-day festival. For the third year running, a number of wine events were run by the increasingly popular Arundel Wine Society. Out of 7 wine events, featuring wines from around the world, three of them involved English wines, for good reason.
Up until relatively recently, many people in the UK thought of English wine as either a myth, or just produced by a small bunch of people as a hobby, with one or two exceptions. But when you consider that in 2015 some 5 million bottles of English wine were produced and according to some estimates, this will double by 2020, with a predicted 30 million bottles by 2030 – only 13 years from now – that's a very serious wine industry. The English Vineyards Association reckon that one million vines will be planted in England this year alone.
Why? A combination of global warming and new technology. Despite Mr Trump's denials, global warming is happening, it's only the cause which is in dispute. The small but steady increase in average temperature means that grapes can now ripen sufficiently in England to make high quality wine. Combined with expert wine-making techniques and the latest technological equipment in the winery, this all translates into the production of wines whose quality can stand alongside many of their peers in Europe and other parts of the world.

Last Monday, one of the sell-out events for the Arundel Festival, was a tour of 4 Sussex vineyards by minibus. The vineyards visited demonstrated just how the English wine industry is expanding and producing great quality wines. Stopham Vineyard, the first to be visited, makes mainly still wines, and has some of the highest technology I have encountered, with carbon-dioxide monitors controlling the fermentation temperature. Bolney Wine Estate, the next on the list, won English Winery of the year this year, but is about to build a completely new winery in order to double their production, which is already one of the largest in Sussex.
On then to Ridgeview near Ditchling, where again they are about to build a new winery, increasing production up to around half a million bottles per year, all of which is high quality sparkling wine, made by the same method and the same grape varieties as champagne. The last visit was to Nutbourne Vineyard near Pulborough, a family owned operation producing award winning sparkling and still wines in their own high-tech winery. They also have plans to plant more vines and increase their already substantial production.
Two other events involving English wine were the now legendary Restaurant Trails on Tuesday and Wednesday nights, involving 4 courses each in a different restaurant with a different glass of wine. The first course was an aperitif with superb canapés at Sparks Yard in Tarrant Street. The wine was supplied by Digby Fine English, which produces top quality traditional method sparkling wines. The company sources grapes from different vineyards across the south of England and blends these to make their wines, in a similar manner to many champagne houses. The 2010 vintage and the Leander pink were tasted to unanimous approval.
The final event involving English Wine was a tutored tasting and comparison of sparkling wines made by the same method as champagne, but not champagne. Here, the Primordia 2014 from Blackdown Ridge vineyard near Lurgashall, showed extremely well compared to its European peers.