Interesting New Spanish Wine Regions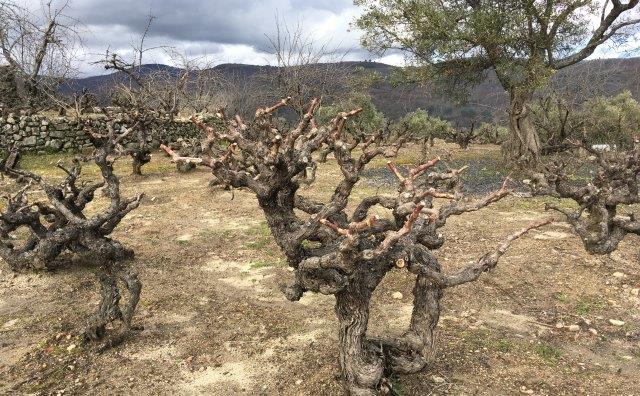 Look Out for the Delicious New Spanish Wines


A couple of weeks back, I wrote about a group of very authentic Spanish restaurants in London called Iberica, well worth a visit when you're up in town. I also mentioned how Spanish wine has re - invented itself in the last 20 years, so last week I went there to see for myself. I could perhaps have chosen a better week to do so, with regards to weather. Being Spain, my vision was of balmy Spring weather with bright sunshine under a blue sky. To be fair, I did have one sunny day out of five, but I wasn't expecting 25% of the yearly rainfall in five days, with daytime temperatures of 4 degrees!

The area I was visiting is in the Central North west of the country, called Castilla y Leon, which has several notable wine regions, now producing first class, modern style wines. The Duero river runs through this area, becoming the Douro when it crosses the border into Portugal. The Ribera del Duero Denominacion d'Origen (DO, the same as Appellation Contrôlée in France), produces soft, fruity red wines from the Tempranillo grape, and the neighbouring Rueda DO is mainly known for its crisp, refreshing whites made from Verdejo. Wines from both these regions are now available to purchase relatively easily in the UK.

However, there are some very new wine regions which have just achieved the DO status, although more difficult to find here, at least at the moment. One of these is called 'Arribes' DO, situated right on the border of Spain and Portugal, in the Duero valley. The area is about 45 minutes from Salamanca, which boasts the oldest University in Spain, and the second oldest in Europe. I was staying on a wine estate called Hacienda Zorita, only twenty minutes outside Salamanca, which makes some outstanding red wines from the Arribes region, which only achieved its DO 15 years ago. The wines are very modern in style, with good fruit character and subtle complexity achieved by judicious use of French oak.

My travels also took me into the mountains of the Sierra de Salamanca and hence my battles with cold, torrential rain and sleet. This is one of the newest wine regions of Spain, having been granted DO status only in 2011. There are only six, soon to be seven, wine producers here and their flagship grape variety is a local red called 'Rufete'. Wild and rugged country, with steep slopes, there are many different soil types, including some of the oldest rocks in Spain. Winemaking in this region goes back thousands of years, and the terracing of whole mountainsides is testament to the prolific production of this area in years past.

Last century, most of the vineyards were abandoned, with the younger population moving to the big cities, but there is now a revival underway, with some of the old vines being rescued and new ones planted. The vineyard plots are tiny, nestled on the mountain terraces and the vines are ancient, many being between 70 and 100 years old. Bodega Cambrico is the pioneering wine producer and their Rufete red wines are fruity, characterful and appealing, already exported to several countries, with a big market in Switzerland. The state-of-the-art winery, built into the mountainside, is run by a small, young team, making new, modern, world-class wines.

Another leading producer in Sierra de Salamanca is Bodega Zorra in Mogarraz, making both red and white wines. The reds are made from the local Rufete, as well as the iconic Spanish grape varieties of Tempranillo and Garnacha. They also produce a very unusual barrel fermented white called ' 8 virgins' (Don't ask!), made from an unusual blend of grape varieties, with Rufete Blanco, Moscatel de Grano and the sherry grape - Palomino Fino. Golden yellow, with aromas of ripe stone fruit, vanilla and toasted nuts, fresh, fruity and savoury on the palate with a long finish.

New, interesting, flavoursome wines which have great personality. Great value at £9 to £15 a bottle, available directly from Spain through the specialist on-line Spanish merchant 'Vinissimus'. Better still, go visit!