Lobster and Taittinger - a perfect pairing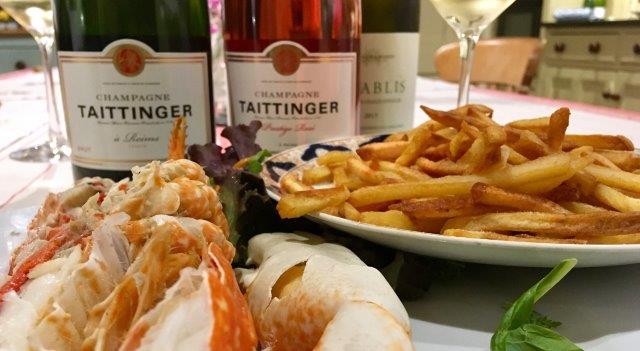 Lobster and Champagne – Just find an excuse!
When it comes to food and wine, there are certain things that just seem right together. Beef and horseradish, lamb and mint, fish and chips are some of the incontrovertible food pairings. But with food and wine together, there are also some pairings that are perfectly matched. One of these is lobster and champagne. A bit decadent perhaps, but for a special treat, it is worth every mouthful and with lobster season still in full swing in August, now is the time.

Here in Sussex we are lucky to have one of the best coasts for lobster fishing, with the renowned Selsey beach near Chichester producing some of the finest quality. Selsey crab and Selsey lobster have a particularly fine flavour and can be bought direct in Selsey itself, or from a good fishmonger, such as Riverside Fish in Littlehampton, where they will cook it for you to order.

Lobster is a delicate and refined flavour, but at the same time definite, aromatic and individual. It thus needs a wine with similar characteristics to match it, and what better than a glass or two of top quality characterful, champagne such as Taittinger. This is one of the last of the great champagne houses to still be family owned, although there was a brief period when it wasn't.

The original business dates back to 1734, then owned by Jacques Fournaux, who had a wine business working alongside some Benedictine monks, such as Brother Jean Oudard. But it was not until 1932 that it came into the Taittinger family. Pierre Taittinger was a cavalry officer in the First World War and fell in love with the vineyards of champagne when he was stationed there from 1912, finally buying Chateau de la Marquetterie and the vineyards 20 years later. The company was briefly sold to the US Starwood group in 2005, but was bought back again in 2006 by Pierre-Emmanuel Taittinger with investors, after a huge outcry that the sale was not in the interests of the champagne industry as a whole.

The style of Taittinger champagne is characterised by a relatively high proportion of Chardonnay in the non-vintage blend. The flagship wine of the house is Comtes de Champagne, which is 100% chardonnay and often used for French State banquets. The Taittinger Brut Reserve has a delicate nose, with hints of peaches and brioche. It is dry, light and graceful, yet has great balance and considerable depth of flavour on the palate. Very fine bubbles, with subtle honey and fresh fruit and a long, fresh finish. Elegance in a glass, the perfect accompaniment to Selsey lobster, with or without chips.

The Taittinger family is dedicated to producing wines of excellence and to increase stability and control, they own over 720 acres of vines in the champagne region, one of the largest holdings. The headquarters are now in a 13th century mansion in Reims, once home to royalty. It is one of the few champagne houses to cellar its wines – some 12 million bottles or so – in the chalk tunnels under the city of Reims, called crayères, originally excavated by the Romans and re-discovered in the eighteenth century.

Taittinger champagne has weathered various storms over the past near century and is now one of the most recognisable and revered champagne brands, reputedly a favourite of James Bond.
It is a forward looking and thinking company and has recently acquired a substantial piece of land in Kent on the chalky North Downs, where it is busily planting a large vineyard. This is further proof, if any were needed, of the great potential this country has for producing world-class traditional method sparkling wines. The vines being planted are the traditional champagne varieties of Chardonnay, Pinot Noir and Pinot Meunier.

A little patience is needed, however, as the first English Taittinger won't be available until until around 2023! I'm sure it will be worth the wait.