National Burger Day! Of course........!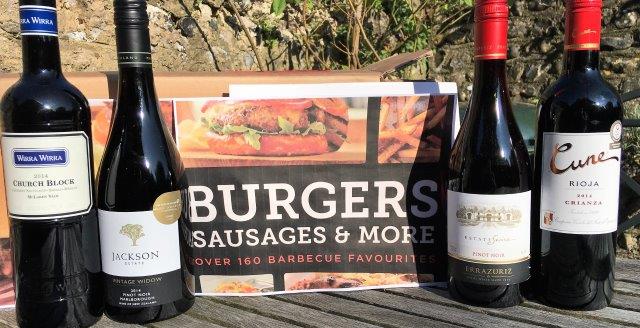 Choose your wine for National Burger Day!

Are you ready for one of the year's great culinary events which takes place this week? Perhaps you have been looking forward to it for weeks, or maybe you've never even heard of it. Shame on you, since this Thursday 24th August is National Burger Day! Yes, even the lowly burger gets to have its day. And why not? Millions of burgers are consumed across the planet every week and it has long been a 'fast food' favourite, with multi- million-pound businesses having been built on this simple dish. Apparently, the leading hamburger business sells an average of 75 hamburgers per second.

Food and drink awareness days are multiplying and have an international aspect. Pancake day (Shrove Tuesday) has of course been around for a long time, but how about International Sticky Toffee Pudding Day or National Fish and Chips Day? The US has over 175 days devoted to food and drink awareness (anything to do with marketing?), including National Cream Puff Day and National Popcorn Day - two more top culinary offerings. There is also National Fluffernutter Day in October. Don't ask.

But, as with all dishes, quality and taste can vary considerably - there are burgers and burgers. According to most historical perspectives, the origins of the burger are from Germany. Originally called the hamburger, it was a patty of minced beef made from Hamburg cows in the nineteenth century. The exact origins of the modern burger, where it is sandwiched in a bun with various additions is, however, open to much debate. The minced beef patties were called Hamburg steaks, and according to one theory, the 'sandwiching' idea was introduced during the Industrial Revolution in the US, to make them easier to eat whilst standing or working. Immigrants from Germany had brought the Hamburg steak concept to the US at the beginning of the twentieth century.

A good burger can be a very enjoyable dish when properly made and prepared and it is well worth seeking out a decent burger restaurant to experience the difference for only a relatively small increase in price. One such place is the new Burger Shop Co. in the centre of Arundel. The burgers are made from 100% beef, with a combination of different cuts being used, all of which are aged for 28 days for increased flavour and tenderness. The brioche buns are sourced from a specialist bakery in London, supplied three times per week for freshness.

Whether you try out a new venue to celebrate National Burger Day, or decide to get the barbecue out for a final fling before winter sets in, there remains the question as to what wine to drink. For me, any beef burger calls for a red, but which red can depend on the filling and your skill at controlling the carbonising effect of the barbecue. Wirra Wirra Church block 2014 from McClaren Vale in Australia with its sweet fruit of black plums and cherries and a bit of spice, matches well with sweet red peppers and onions. Great value blend of Cab Sauvignon, Shiraz and Merlot, only £13.49 from Waitrose, Ocado and Tesco. But with a simpler style burger cooked rare or medium, go for a lighter yet flavoursome style such as Pinot Noir from the New Zealand producer Jackson Estate in Marlborough (£19.99 from Ocado or Majestic), or from Chile such as Errazuriz 2014, a producer with history back to 1870. And if you've gone for the works - onions, Jalapeño peppers, cheese and pickled cucumber, with a burger a little carbonised around the edges, go for a full, oaky Rioja such as Cune Crianza 2014, with its sweet notes of liquorice and balsamico from the American oak. Both the latter available at Majestic for £10.45 per bottle.

So, this Thursday, fire-up that barbecue or try-out a new burger restaurant, such as The Burger Shop Co on Arundel High Street – a much more inviting place than the Lloyds Bank, whose building it now occupies!