Sparkling Pinot Gris. A first for the UK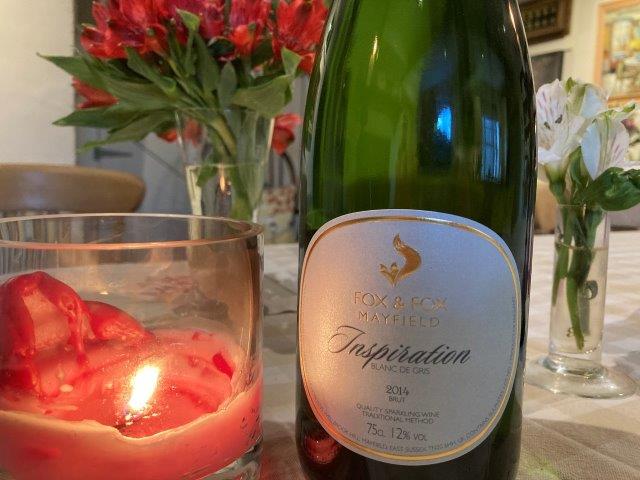 Novel English Sparkler from Fox and Fox Wins Gold
So, our somewhat muted Christmas festivities are well and truly over and here we are, nearly halfway through January in Lockdown Number Three. A definite sense of 'Déjà vu'. This wine discovery, however, I am fairly convinced would not be on most people's list of 'Déjà Bu'! It is a sparkling Pinot Gris made by the award-winning English wine producer Fox and Fox, based in Mayfield, East Sussex. It is the only one of its kind in England and in fact is a rare style of wine anywhere in the world.
With a keen sense of experimentation and innovation, the winemaker Jonica Fox, alongside her husband and partner Gerard, constantly pushes the boundaries in order to create interestingly different wines which stand out from the crowd. This sparkler, made from 90 % pinot gris with 10% chardonnay certainly fits that mould and has met with outstanding success, being awarded not only one, but two gold medals. The aptly named 'Inspiration' 2014, made by the Traditional Method (as in champagne) is called a Blanc de Gris and gained gold in the 2019 Independent English Wine Awards and gold also in the very challenging Global Pinot Gris Masters 2020.

Such is the creative flair of Fox and Fox, that this sparkling English wine producer has gained 9 gold medals in 2020 – undoubtedly affording some relief from the rest of the news during that year. Established in 2004, the producer continues to evolve its business model, having now proved beyond doubt its high-quality winemaking expertise. The future will now be based on sourcing grapes not only from their own vineyard, but also from a number of growers from across Sussex, supplying on an exclusive basis. This system, similar to many champagne producers, allows the Foxs to select high quality grapes from some of the best growing sites in Sussex.

A unique English sparkling wine, it is quite delicious, with a low dosage giving an attractive dry taste, combined perfectly with a crisp acidity. Personally, I find this a surprisingly appealing wine, with an inherent English sparkling wine style of fruit, spice and mouth-watering acidity. The nose has notes of honeycomb and golden mirabelle plums, with freshness and intensity. The palate is full flavoured, with flavours of gala apples, fresh greengages, lemon peel and hints of toast and spice.

The current release of the 2014 has been aged on the lees for 4 ½ years, increasing the intensity and complexity of flavours. Outstanding proof that the Pinot Gris grape variety can do very well in the capricious English climate and that with dedication, passion, creativity and a lot of hard work, exceptional wines can be made here.
Certified by the Vegan Society, all Fox & Fox's wines are suitable for vegans and vegetarians and are available to purchase directly from the producer's online shop