Summer Rose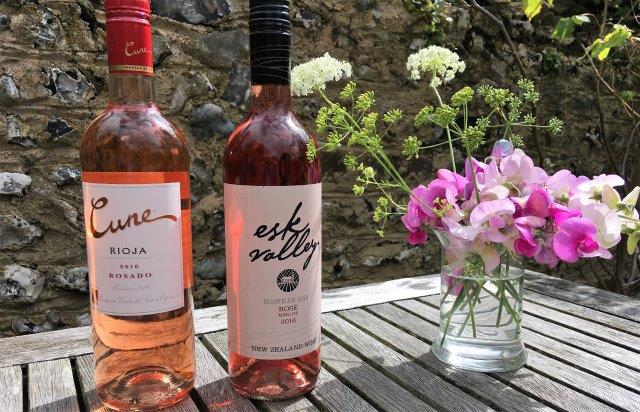 Perfect Wines for a Less than Perfect Summer
August is here and our Mediterranean style summer has transformed itself into the normal English Summer. It had to happen of course. The one thing you know for sure is that as soon as the kids break up the weather will be awful - until the beginning of September, when it will be warm and sunny, once the holidays are all over. Still, at least we can indulge in our favourite pastime of talking about the weather. If it's cloudy, the sun-worshippers will be disgruntled, if it's dry the gardeners will be complaining, if it's too hot we can't sleep at night, but everyone will be happy as there is lots of weather to discuss.

Hopefully, the holiday month of August won't be too unkind and we can enjoy some picnics, barbecues and other summer meals and drinks parties between the showers. And so, we return to rosé - it's now or never. With our changeable weather, we need to select the right rosé for the right moment and weather conditions.

Here are a few suggestions to help you through our English Summer. Huddled under large umbrellas, we peer at each other through the smoke of the barbecue, with various brave weather comments such as " It's not quite as cold as I thought it might be" or, " I think I can see a patch of blue sky on the horizon". For such conditions, a robust rosé is called for, something perhaps from 'down under' such as the Esk Valley Rosé 2016 from Hawkes Bay in New Zealand, around £12.45 from The Seriously Good Wine Company. Alaskan salmon pink and made from Merlot grapes, it is dry and has good body and firm berry fruit, with great depth of fruity flavour. Perfect to stand up to the tastes of slightly charred chicken wings and barely recognizable sausages.

Next comes the picnic. First, choose your picnic site, which, if everyone is like our family, is not an easy task. Too sunny, too shady, too noisy, too quiet, Aah! just right, apart from the wasps and the ants. So, once you've installed the picnic table and chairs, the food is relatively easy as there is now so much to choose from in the supermarkets and delis. A refreshing, juicy, Spanish rosé or Rosado from Cune is a perfect accompaniment to cold meats, salamis, chorizo and mature hard cheese or goats cheese. The vibrant 2016 is available from Majestic at around £10 a bottle. Add a bowl of strawberries and cream - picnic sorted.

Though we may not be enjoying the temperatures of the South of France or Italy, even an English Summer has some warm days and leads us to choose lighter meals such as salads. Bring some of that southern sunshine home by pairing a Southern French rosé with a courgette, roast tomato and goats cheese quiche, accompanied by some tender salad leaves tossed in vinaigrette. Jean-Luc Colombo from Cornas in the Rhone valley produces a deliciously fruity 2016 rosé called Les Pins Couchés - the sleeping pines. A very pale salmon colour, it has a delicate aroma of Summer berries. An elegant, dry wine with freshness and a touch of spice. Colombo has been called ' one of the most progressive and influential winemakers of his generation' and this simple country wine is indicative of his superb quality. Only £12.25 from Wine Rack.

And for those rare glimpses of sunshine and blue skies, try a refreshing, juicy Macon rosé from Louis Jadot, one of the great Burgundy houses. Dry, with fresh raspberry and red cherry flavours, it is made from 100% Gamay grapes. £13.50 from Wine Rack. The Macon region is in the south of Burgundy next to Beaujolais and wines are often made from similar grape varieties. Great for an easy drinking aperitif or, if you're lucky enough, sipping on the terrace as you watch the sun setting.