Take a new Look at Sancerre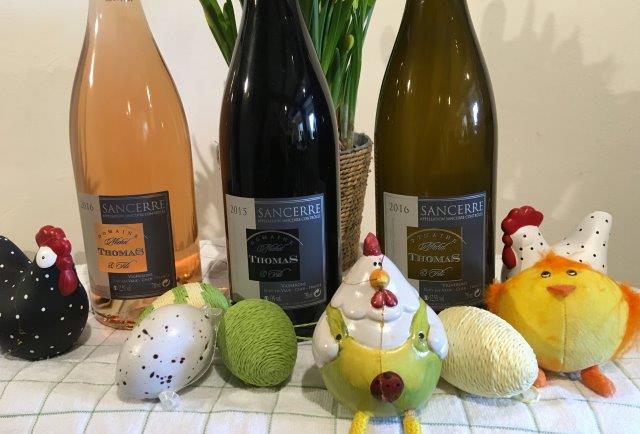 Try the Elegant Wines of Sancerre

The Christmas festivities are now but a fading memory, we've done battle with the 'Beast from the East', the daffodils are well and truly out and the buds are beginning to burst. Spring at last, and with it comes more celebrations in the form of Easter. Apart from the important religious significance, Easter is also a celebration of the new season and the wonderful fertility of nature. Hence the eggs, rabbits, chickens and a host of other icons representing the re-awakening of nature.
Many traditions have grown up over the centuries, not least of course, the excessive consumption of chocolate. But in terms of food for the family get-togethers, there are two which appear to have a universal attraction. Fish on Good Friday and lamb on Easter Sunday. Prompting the question of what wine to accompany these traditional dishes? The easiest reply is "Drink what you enjoy", which always holds true, since there are no rules in food and wine pairing, only guidelines as to what might work best. Unless the fish is prepared with a recipe using highly flavoured spices, or the lamb is slow roasted and caramelised, subtle and elegant wines work extremely well. Such are many of the wines from the Central Loire Valley and wines from this area can fit the Easter bill admirably. Sancerre is a vineyard area situated south-east of Paris and actually closer to the Burgundy region than many of the other wine areas of the Loire.
Most people know Sancerre for its high quality white wines, and indeed the majority of wines from this appellation are white. But the region also produces both delicate rosé and fine red wines, both of which are gaining greatly in popularity. The white wines are made from 100% Sauvignon Blanc and are hailed by many as the ultimate expression of this grape variety on a global basis. The rosés and reds are made from Pinot Noir, a grape variety which I personally consider the ultimate match for lamb.
Domaine Michel Thomas is a small family wine producer in the heart of the Sancerre region, producing all three colours from their 42 acres of vineyards located on some of the best sites of the area. A multi-award-winning Domaine, these wines are considered to be some of the most expressive of the appellation and are produced with loving care and passion by the Thomas family. With prices around £18 a bottle, all three styles are great value in view of their top quality and available locally in Sussex from Oliver's Beer and Wine in Copthorne.
Although Sancerre has become known for Sauvignon Blanc in a similar way to Chablis being synonymous with Chardonnay, before the ravages of the vine pest Phylloxera in the nineteenth century, nearly all production was of red wines from Pinot Noir. Such was their reputation, that they were sought after by royal palaces in many parts of Europe. When the vineyards were replanted, far more Sauvignon Blanc was used, as it was initially easier to graft onto the new root-stock and hence the change in make-up of the vineyards to how they are today.
Thus, from one producer, or at least from one wine region, wines can be found which are perfect with nearly all your Easter dishes. Sancerre Blanc with your Sea Bass, Sea Bream, Dover Sole or Turbot, Sancerre Rouge with its wonderful balancing acidity, raspberry fruit and low tannins with roast lamb and finally a delicious, fresh, fruity and elegant Sancerre Rosé with a fruit based or creamy dessert. Try to track down the excellent wines of Domaine Michel Thomas, but otherwise good producers such as Joseph Mellot also produce wines which will be perfect for your Easter celebrations.