The Rise of Albarino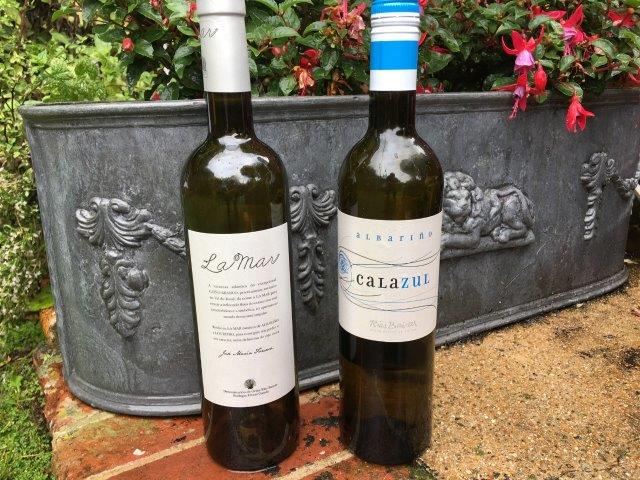 If you're tired of the usual white grape varieties, Sauvignon Blanc from a hundred different places or the ubiquitous Chardonnay from all around the globe, you may find a liking for a fresh up-and-coming varietal from North-west Spain. The region of Rias Baixas is located in Galicia and is now widely regarded as the top white wine region of Spain.
95% of all grapes grown in this region are the Albariño variety, a grape variety which is growing greatly in popularity, now being grown successfully in California, New Zealand and some parts of Australia. The true heartland of Albariño, however, is the Rias Baixas in the far corner of North-west Spain. Known as 'Green Spain', the region experiences higher than average rainfall in comparison to the rest of Spain, and has lush, verdant countryside as a result.
Due to the humidity, the vines are grown high off the ground on trellises, using local granite posts. This allows better circulation of air, helping to prevent diseases and also facilitates harvesting, which is all done by hand. The UK is now the second largest market for wines from Rias Baixas after the USA, with 6,500 growers producing wines from 20,000 individual vineyard plots, covering some 10,000 acres. The grape's thick skin enables it to withstand the damp climate of Galicia and the subsequent fruit is small, sweet and high in glycerol, producing wines high in alcohol and acidity.
Crafted close to the Atlantic Ocean, the wines from this region are perfect with fish and seafood of all descriptions. Crisp, dry and fresh, without the shadow of an oak cask, these wines have fruit, zest and vibrancy, being perfect for the modern wine-drinker and modern cuisine, including Thai dishes.
Several other white grape varieties are grown in this area, although Albariño is by far the most widespread. It is since the 1980s that the wine has been made as a single varietal, previously being mainly blended with other varieties. This is still the case for some wines and La Mar 2017 from Bodegas Terras Gauda, is made predominantly from Caiño Blanco, blended with Albariño and Loureiro. Production is scarce, as the ancient variety Caiño Blanco is difficult to work with, being thin skinned and ripening very late in the season. But when successful, the wine is outstanding, with tropical fruit characteristics, together with earthy, mineral notes and fresh, saline overtones. With good body and a creamy palate, the finish is long, yet fresh and fruity. £25 from on-line specialists such as winedirect.co.uk.
Varietal Albariño is now widely stocked, from Aldi to M&S, and it is difficult to find one which disappoints. Happily, it is now also finding its way onto restaurant wine lists, so well worth looking out for, particularly if fish is on the menu. Calazul Albariño 2018 is from the Val do Salnés sub-region and is a clear, straightforward, bright wine, with intense fruit flavours of green apple, pear and a touch of peach. Crisp acidity with a refreshing finish. £10 -£12 from on-line merchants such as darcywine.co.uk.