The Sweet Smell of Success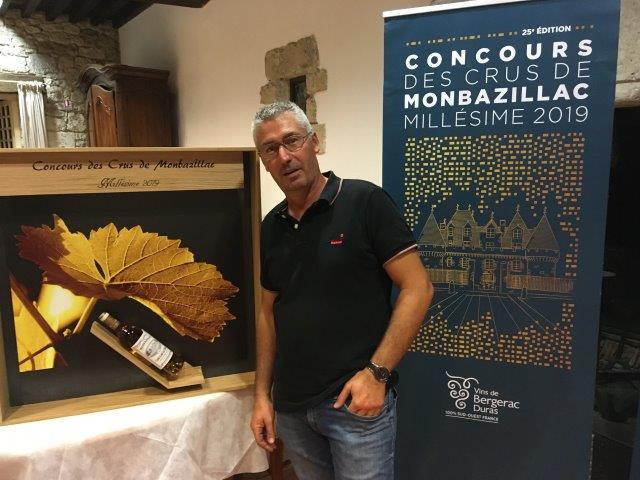 Particularly appropriate last week for the winner of the annual Monbazillac sweet wine Competition. Held at the prestigious Chateau de Monbazillac, a select group of wine professionals gathered to judge the best wines of the 2019 vintage, the 25th such competition to be held.
Being privileged to have been invited as one of the judges, it was impressive to witness the measures put in place against Covid-19 at such an event. Each taster had an individual spittoon and tasting glasses, all wine pourers wore masks and judges were distanced on the tasting tables.
The Monbazillac vineyards represent the largest sweet wine region in the world. It is also one of the oldest such regions, situated only 5 km south of the old market town of Bergerac. Born originally from a random event when grapes were left longer on the vines and were infected by a mould, now known as Noble Rot, this golden wine is the focus of great attention during its production. Harvested exclusively by hand, the yield is exceptionally low, with individual grapes or bunches being selected during a number of successive pickings.

The Noble Rot, whose proper name is Botrytis Cinerea, eliminates moisture from the grapes, concentrating the natural sugars and imparting a particular flavour and aroma. Careful winemaking techniques, with or without the use of oak barrels, then create a balance between acidity, alcohol, flavour and sweetness. Climatic conditions can have dramatic effects during the growing season and each vintage is a new adventure in the constant struggle with Mother Nature.

The Monbazillac appellation was designated as far back as 1936 and now covers nearly 6,000 acres of vines, with an average annual production of 6.8 million litres. It is number one of sweet wine sales in the domestic market of France, but also exported widely around the globe. The four principle grape varieties are Sauvignon Blanc, Sauvignon Gris, Semillon and Muscadelle, the star being Semillon for its aromas and propensity for Botrytis.

A total of 39 different Monbazillac wines were tasted blind by the team of 35 judges in a well-organised series of tastings. The resultant winner of the Trophy for Best Monbazillac wine of the 2019 Vintage was the Grande Reserve of Chateau de Fagé, owned and managed by Benoit Gérardin in Pomport. A doubly impressive win, since the same Chateau won the previous year, rewarding their evident consistency in striving to achieve the highest quality in their wines.

Chateau Le Fagé has been owned by the same family for 12 generations and is situated on the high ground to the north of the appellation with stunning views over the Dordogne Valley. Produced with commitment and passion, these first-class wines combine freshness, verve, and a luscious explosion of ripe fruit on the palate, lifted and enhanced by gentle maturation in oak casks. Golden elegance.