Wine Still Available to Keep Up Morale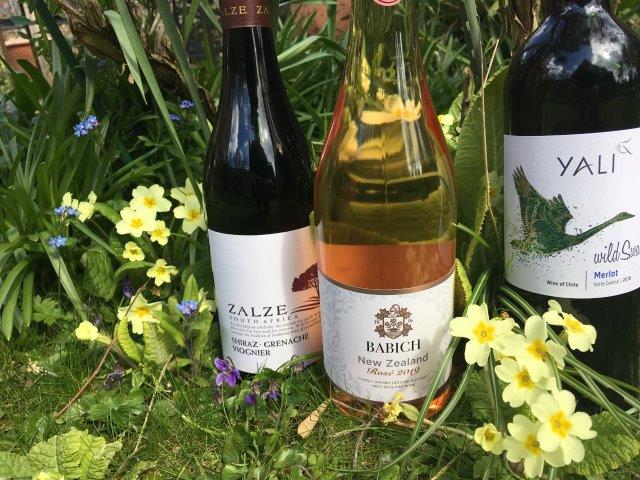 It was great to see last week that off-licenses were added to the list of businesses allowed – and even actively encouraged – to stay open in these difficult times of social distancing. The reason was twofold. Most importantly, I believe, it was due to the recognition that we all need a little something to lift our spirits and enjoy a glass of wine or beer with our meals at home.
Secondly it was recognising that the supermarkets were having an unfair advantage, since they were obviously and necessarily open, but they stock alcoholic drinks as well as food. With supermarkets open and off-licenses shut, the advantage to the former was clearly unfair.
The Wine Society, which is a fabulous on-line wine retailer, sadly reached the conclusion that they must shut up shop temporarily, to protect the well-being of their fulfilment staff. Majestic, although they have shut all their stores, is still operating intermittently on-line. Due to the volume of orders, the website has crashed at times and, a bit like Ocado, you sometimes have to wait to be able to place an order. The balance between staff well-being, social distancing and customer service is difficult to negotiate in these strange times.

However, despite reports of empty shelves in the wine aisles of the supermarkets, there is still plenty of wine around to help us during our lock-down. When I visited my local Waitrose store last weekend, after queuing for around 45 minutes, there was plenty of stock on the shelves. I am also impressed by their selection. Visit the small independent wine shops also. They need the business and normally have a great selection available.

You can also buy direct from the English wine producers, such as Ridgeview which I mentioned last week. But here are a few suggestions of wines which I can recommend from the Co-op. These stores are widely distributed throughout Sussex and have changed enormously in the last few years, now stocking a great range of foods, along with a very good selection of wines. Not all the wines are stocked in all the branches but go on-line and you can find which wines you can find where.

Some of these wines I have recommended in previous articles, such as the South African red Zalze Shiraz Grenache Viognier 2018, full bodied, delicious and a steal at £7.65. Two wines from Chile come from a sustainable winery called Vina Ventisquero, who are committed to working with local wetlands in a bid to champion wildlife preservation. Using modern winemaking techniques, the Yali Wild Swan Sauvignon Blanc 2018 (£7.50) has fresh, vibrant acidity, medium body and intense aromas of citrus and tropical fruits. Delicious as an aperitif or with a cheese and vegetable quiche.


The red Yali Wild Swan, made from the Merlot grape variety, is rich and soft, with dark fruit character of black cherries and plums. The cooling effect of fresh winds from the Pacific Ocean allows the fruit to ripen slowly, resulting in greater elegance in the wine and gentle oak treatment has given flavours of vanilla, cinnamon and tobacco. Enjoy with a hearty pasta dish (still available if you look hard, or perhaps already in your store cupboard!) or beef casserole, with onions and carrots.


Les Jamelles Viognier 2018 (£7.35) from the Languedoc region of southern France is well made and well balanced. Dry, but with spicy fruit, it is perfect with Asian style dishes. With a nod towards Summer, the New Zealand Rosé from Babich (£9) is dry, fruity and refreshing. The fresh 2019 vintage is crisp and delicious. A great aperitif to sip and dream of those holidays which will come eventually.