Wine, Women and Secateurs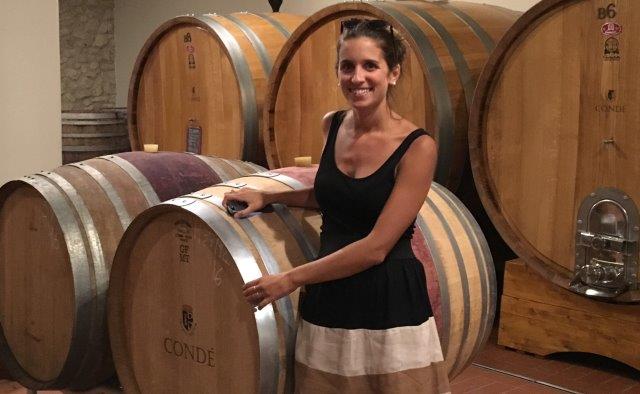 Wine, Women and Secateurs


Did it all start with Madame Clicquot? Perhaps, but even she had a tough time and, rather than operating under her own name when her husband died in 1805, she had to carry on as 'The Widow Clicquot'. Nevertheless, she was the first woman to run a major champagne house and set a precedent for women working in wine. For the next two hundred years, it has been a struggle for women in a very macho and male dominated industry. They have had to fight against prejudice, chauvinism and the sheer physical challenges of the work.

But in the last fifteen years, there has been a palpable change and women are now more and more accepted in influential and demanding positions in the wine industry and wine-making. Something to celebrate this week with International Women's Day falling on 8th March and Mother's Day at the weekend.

Borgo Condé produces some stunning wines, mainly from Sangiovese grapes, in the Italian region of Emilia Romagna. The winery is located near the town of Predappio, birthplace of Mussolini, although the locals prefer it to be remembered as the birthplace of the Sangiovese grape variety.
Chiara Condello, daughter of the owner Francesco Condello, runs the business and promotes the wines internationally. Chiara graduated in Economics from the Luigi Bocconi University in Milan, before completing a Master in International Management. She began working at Borgo Condé in the summer of 2012. After gaining experience abroad she returned to Predappio and today is involved in every aspect of her family's business. When she is not at the company HQ, she travels through the five continents of the world, presenting the wines and sharing her passion for them.

Vitalie Taittinger is another influential woman. Daughter of the head of the independent champagne house of Taittinger, she is largely responsible for marketing and communication of the brand worldwide. Originally trained in fine art, she is able to communicate the emotion, passion and feeling, so inherent in a top-quality champagne with a family history going back to 1734. In California, there are over 300 women winemakers and going back to Italy, the leading producer of wines from Umbria - Lungarotti - is controlled and run by the two sisters, Chiara and Teresa, one of the first women oenologists in Italy and mother of three children.

So, to celebrate both International Women's Day and Mother's Day, here are a few suggestions of wines from producers headlined by hard- working, determined and influential women. First of all, is the great Champagne Taittinger, with its evocative flavours so wonderfully expressed by Vitalie. An unmissable treat for the wonderful woman in your life (which may be you!), is the Prélude made exclusively from the very top Grand Crus vineyards. It is harmonious, elegant, full and sophisticated, an equal blend of Chardonnay and Pinot Noir and aged for 5 years on the lees, giving great complexity, toasted brioche aromas and a long finish. Around £54 from Majestic or John Lewis.

For a taste of a classic white burgundy, but from a non-classic sub-region, try the Domaine Ferret Pouilly Fuissé 2016, made by Audrey Braccini. Pure expression of Chardonnay made with care, love and a little oak. Balanced, buttery, integrated and satisfying. Around the £33 mark from North and South Wines, Taurus Wines, Planet of the Grapes, amongst others. For a little lighter, yet full flavoured glass-full, try the New Zealand Villa Maria Riesling 2017 from Helen Morrison the chief winemaker. £10.95 from Majestic or Wine Rack. A touch of residual sugar balanced by a racy acidity. And then there is the beautiful Sancerre Rosé from Catherine Corbeau Mellot, president of the Loire producer Joseph Mellot. Fresh, fruity and appealing. £22 from the Shenfield Wine Company.